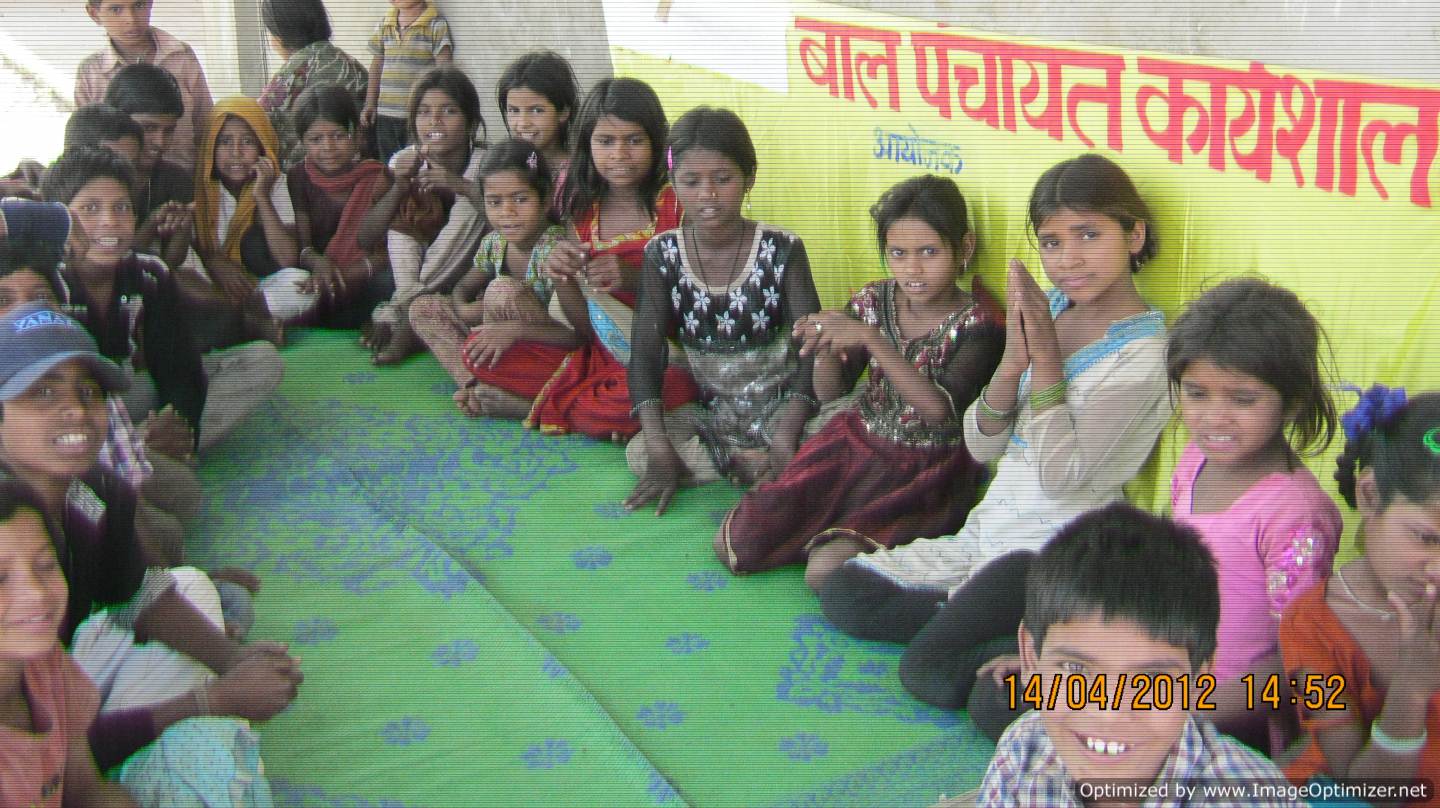 Child Labor and Platform Initiative
Since 2001, Action Aid and Bachpan initiated to facilitate the process of ensuring rights of the children in the city of Bhopal and Itarsi. The project was designed keeping in view the child rights framework. Its mission is to address the rights of individuals, here mainly children, who suffer the most intense denial of rights.
Bachpan is using a rights - based approach to development emphasizing on participation, empowerment and non-discrimination while addressing vulnerability, marginalization and exclusion. Initially the work was started in 9 bastis of Bhopal as a child labour initiative. Later on in year 2006, work was expanded in 11 new bastis (i.e. 20 slums of Bhopal) and 3 railway platforms with support of education campaign AAI.
Objective of the Programme
To ensure the rights of children of most marginalized community
To form and sensitized community based organization who take lead role in planning and implementation of the plan in favor of community.
Linkages and advocacy with concern department for ensuring the rights of children
| | Child Labour Initiative | Platform Children Initiative |
| --- | --- | --- |
| Project Locations | Bhopal | Bhopal, Itarsi and Katni |
| Number of villages covered directly under the project | 20 Bastis of city : 1- gas affected colony, 1 displaced slum | 3 major railway platfroms of M.P. (Bhopal, Itarsi, Katni) |
| Number of families under direct coverage | 6730 | 60 children/month/platfrom |
| Total population under direct project coverage | 5021 | 500 |
| Women | 2387 | |
| Men | 2634 | |
| Children (0-14 years) | 8447(0-5 years- 3428, 6-14 years-5012) | Girls 50( By either home placement and linking with Institutions) |
| Persons with Disability (Male and Female) | 69 (36:Men, 33: women) | |
| Social Group, the project works with (Dalits/Tribals/Muslims/Women/ Urban Poor/ Infromal Sector Labour/ MBCs (fisher folk) etc. | Urban Poor | Children |
| Specific Partner communities within the Social Group | Tribal (Gonds), SCs, Rag pickers, migrant labors, Household workers | Children on platform and under institution |
| Key Rights based theme focus of the project | Child rights- Right to Participate, Develop, Protect and Survive | Child rights- Right to Participate,Develop, Protect and Survive |
| Year of start of project | 2001 | 2004 |
| Year of Perspective & Strategy Document | 2001 | 2004 |
| Year of Programme Review | 2003, 2006, 2009 | |
| Year of Withdrawal Plan | 2009 | |
| Year of Impact Assessment & Exit Audit | 2011 | |
| Case History level | 439 (Italian Sponsor); 220(New case History raised in 2010:50(Indian Sponsor) | |
1. Slums - In Slums Working As a child labor Initiatives -
Through this program we are working with those children Who are valuranable we covered all issues which effect the life of children like child labor, either paid or unpaid, and is working within or outside the family, Malnourishment, gender discrimination abuses etc basically, we work for those a child who is deprived of the right to education , Protection and childhood. We also believe that the all those issue of community needs to be addressed through community itself hence the major emphasis was given on strengthening of groups and built their capacity.
Through this initiative we have working with their level
With Community CBOs
Women groups- 15 Groups (15 slums)
Child Development Groups- 18 groups (in 17 slums)
Adolescent Girls-(50 Child labor girls )
Forms-Mahila Munch, Bal Panchayat
With Institution, like schools, ICDS center
Concern Department like Education, Gram Panchayat, Health & WCD
2. Initiative with children on railway Platforms.
Bachpan is working for home placement of platform children as an ongoing process, as we believe that for the right of protection and development of children home plays an important role. The major emphasis was given on advocating the issues related with implementing of JJ act. 2000.
For ensuring Child Rights.
Family Tracing.
Home Placement.
Strengthen of Bal adikar mitra.
Disha.
Drug de-addiction and Home Placement.
Networking with Organization.
Efforts done by Girl child at platform.
Capacity building of Team.
Networking with Government Institutions/Department
Railway Department.
Special Juvenile Police Unit.
Child Welfare Committee.
Dist Advisory Board.
Shelter home (Girl).
Police department(RPF/GRPF).